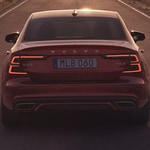 The Volvo S60 is small and stylish, which appeals to many luxury car owners. Inside and out, the sedan exudes elegant features. But, Volvo gives new owners a choice of different powertrains in order to achieve the level of performance desired.
The standard models come with a turbocharged four-cylinder engine that provides up to 250 horsepower, which provides plenty of power for most owners. However, if desiring more output, choose a model featuring the supercharged and turbocharged four-cylinder engine that generates up to 316 horsepower.
For environmentally-conscious owners who also desire to conserve fuel, the plug-in is available. The vehicles combine the four-cylinder engines with an electric motor for 400 horsepower. All of the engines pair with an eight-speed automatic transmission. Schedule an appointment to test drive one of the Volvo S60 sedans at our Colorado Springs, CO Bob Penkhus Volvo Cars facility. Experience the luxury that a Volvo provides.