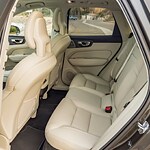 Luxury SUVs are everywhere in society. Just about every major brand has its own version of the luxury SUV, and Volvo is no exception to the rule. The new Volvo XC60 is a well-polished machine. Some of the most distinctive features can be found in the cabin, and the exterior is downright priceless.
When speaking of the interior, it's estimated that five individuals can seat in pure comfort. Of course, this popular compact SUV has supportive seats that will hug your body in premium comfort. The vehicle's air vents have a diamond-pattern finish, and the driftwood décor looks amazing to the naked eye. The new Volvo XC60 also offers configurable rear seats as well as over 60 cubic-feet of cargo space. You and your passengers will love the view that comes from the Panoramic moonroof.
If want further details on the new XC60, then you'll need to head over to our dealership.